Today, Feathered Quill reviewer Holly Connors is talking with Regan W.H. Macaulay, author of
Chloe the Unfeathered Parrot.
FQ: As a parrot mom, I absolutely loved meeting Chloe and learning about her. What prompted you to write about parrots, and their often misunderstood issues? Are you a parrot owner?
MACAULAY: I was actually inspired, in part, by a previous picture book I had written called Tamara Turtle's Life So Far, which is about Red-eared Slider turtles and some of the issues they face in the pet industry. They are also one of, if not the world's most invasive species, due to people purchasing them as pets on impulse, then releasing them indiscriminately into the wild once they realize the responsibility and care involved. I did my research via two rescue organizations—the Toronto Humane Society, and Little RES Q Reptile Rescue. A portion of proceeds now goes to Little RES Q, just as a portion of proceeds from the sales of Chloe goes to The Parrot Sanctuary.
For Chloe the Unfeathered Parrot, I teamed up with The Parrot Sanctuary, located in Toronto, Ontario, where I live. The team at Little RES Q was actually able to connect us. I asked the Director of the Sanctuary, Marie-Elisabeth, about some of her parrot rescue stories and Chloe was the first parrot she told me about. I knew right away that was the right story for me and that it would make the perfect picture book.
I am not actually a parrot owner. I have never had that opportunity, but you never know, perhaps someday! I got all this valuable information and all the details in the illustrations approved and corrected by the folks at The Parrot Sanctuary. The book is as accurate as it is because of them.
FQ: Your book is based on a true story. How is the real Chloe doing today?
MACAULAY: Chloe passed away last year, unfortunately. But she was very old—about 28 or maybe even a bit older. She had an incredible four years with her mom, Sheri, and though we all miss her a great deal, I'm so happy readers around the world will still get to meet her via my book! And she was actually present, along with Sheri, at the Chloe the Unfeathered Parrot book launch party back in June, 2022. A number of other people from The Parrot Sanctuary were also there for the launch, as well as another parrot, an African grey, who is included in the book—Plato!
I'm so happy I got a chance to meet Chloe, both before the book came out and again at the launch party.
FQ: I mentioned in my review how we're never shown the face of Chloe's first owner. I thought this was a great way to not cast blame on someone who didn't purposely harm his bird. Did you discuss with your illustrator how you wanted to portray this person?
MACAULAY: Oh, yes. I let her know right away that I wanted him seen from behind and not to see his face. And that was exactly why—not to cast blame. Sometimes people have good intentions, but just aren't the right fit for a particular pet. This can be true whether it's a particular breed of dog, or a cat, but especially for the more "exotic" types of pets. These mistakes are going to happen from time to time, and what's important is to recognize that the pet in question needs a better home, and to find the right rescue organization to help them find that perfect fit.
FQ: If there was one thing you could tell someone who is thinking of purchasing their first pet bird, what would you tell them?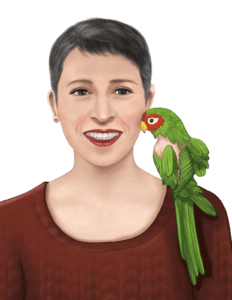 MACAULAY: I would want them to realize the kind of commitment they would be getting themselves into. Do the research and gain the knowledge they would need ahead of time to properly house them and give them the quality of life they need, as well as how long that life could extend. You have to be absolutely 100% committed to their care and needs for the full span of their lives, and if some day you find that they need more than you can give them, have a plan to get them into a home where they will be happy.
FQ: Along the same lines as my prior question, what are a few of the great things parrot ownership brings to those who love them?
MACAULAY: I have noted a very special kind of bond that runs very deep between parrot moms and dads and their parrots. This is more of an "equal level" relationship, rather than a "parent and baby" kind of dynamic. Especially as far as the parrot is concerned. I believe they consider themselves an equal companion, so this is the kind of friendship you should expect, which can be extremely rewarding. They are incredibly intelligent. The kind of stimulation they need in their lives means a great deal of involvement and engagement from you directly. You and the parrot are a constant in each other's daily routines. At least, that's how it has seemed to me when interacting with the staff and volunteers at The Parrot Sanctuary. Each parrot personality is so very unique.
FQ: Like other animal rescues, parrot rescues are often struggling with finances and finding needed volunteers. Would you suggest that people who are considering parrot ownership first volunteer at a rescue? What else can they do to help?
MACAULAY: Yes, volunteering is a brilliant way to find out what you need to know about parrot ownership first. Look into parrot and avian rescue organizations in your area and check out their website. There will likely be pages explaining how you can donate your time (whether it's doing volunteer work directly at the rescue, or their offices, or something more "creative", like involvement in events, educating the public, or getting the word out about parrots available for adoption on social media).
One unique experience for those not quite ready for parrot adoption is parrot sponsorship—an option that is available at The Parrot Sanctuary (www.parrotsanctuary.ca/). There are birds at the Sanctuary who are not yet ready for adoption (some may never be) —you can sponsor them to help them with their rehabilitation. You learn a little bit about the parrot you're sponsoring, and you'll get acknowledgment on social media (unless you opt to remain anonymous).
And, of course, donations are always very important. These donations should go directly towards the parrots themselves, of course, but also the upkeep and improvement of the facilities they are housed in, and towards educating the public about parrot ownership.
FQ: I love how your author bio "photo" and that of your illustrator are actually drawings. What a fun and unique way to get your photos in the book, and get Chloe in there too. Was it your idea to do them as drawings?
MACAULAY: It was actually my mom's idea! And I must say, it was a terrific idea...I love it, too. I'll be doing something similar with my bio photo for Tamara Turtle's Life So Far, which will be republished later this year by a new publisher—Pandamonium Publishing House. They will also be re-publishing a new edition of Chloe the Unfeathered Parrot just prior to Tamara's release.
FQ: You've done a lot of work with animals including animal communication and Reiki work. The two would seem (to me) to work well together. Would you explain what both are and how you work these into your life with animals?
MACAULAY: I trained in Reiki, up to Level 2, first. Reiki is a Japanese word meaning Universal Life Energy. It is a natural, safe, hands-on healing therapy allowing animals (and people) to absorb more life-force energy. It creates and promotes self-healing, balances energies, and revitalizes by channeling energy to your pet in a powerful and gentle way, enhancing relaxation and providing a sense of peace and contentment. Distance Reiki is what I do, specifically. This just means I channel the Reiki energy from my location to the pet wherever they may be. It works on the basis that we are all connected. We all contain energy and are part of a larger whole, therefore the distance between beings is meaningless.
I began courses in Animal Communication with Marybeth Haines (thegalspeaks.com) after that. And the two really do work very well together. I often get messages here and there while doing Distance Reiki sessions with animal clients. Reiki naturally puts you in the right "head space" to receive communications from animals. I am definitely still on the learning curve when it comes to Animal Communication especially. I'm looking forward to taking more courses in future.
Animal Communication is based on the belief that all species in the animal kingdom are sentient, with their own feelings and thoughts, capable of their own ways of communicating. It's about learning how to listen in a way that most human beings have forgotten how to do.
Both have helped me immensely as a Certified Canine and Feline Massage Therapist, too.
FQ: I have to ask about your adult novels! I love how you describe them - "...quirky and hilarious Frankenfiction tales will transport you to worlds where gut-busting comedy collides with the fantastical, horrifying and speculative." Would you tell our readers a little about these books and where they can learn more/find them to read/download?
MACAULAY: Ah, yes, my Trilogy of Horrifically Half-baked Ham! I actually adapted two screenplays and one theatrical play.
The first book is called Space Zombies! and is an adaptation of a film I produced/directed/co-wrote/edited etc, etc, and was released back in 2004. It's full name is Space Zombies: 13 Months of Brain-Spinning Mayhem! and you can find the film itself on Amazon Prime and a few other VOD streaming services, plus a DVD is available, too (https://tripletake.net/shop/space-zombies-13-months-of-brain-spinning-mayhem-on-dvd/).
A synopsis of Space Zombies! for you: Even the sanest and kindest of men goes mad. But what is it that drives him to insanity? Zombies from space seeking human brains for snacks? Human-to-cat, cat-to-human thought essence switches? Monster toad beasts or starfish mutations? Duelling heads? What you are about to read is a description of the circumstances under which one man, veterinarian Dr. Vic McNaughton, goes horribly, horribly, and almost irretrievably insane.
Book 2 is called They Suck and is most definitely intended for a mature readership (or maybe adults who appreciate immature humour!). This is actually based on an as-yet unproduced screenplay co-written with my husband, Kevin Risk.
This novella contains mature content, and this is how I describe it: Are you looking for a hilariously gory and inappropriately explicit tale involving a man and the obsessively tidy woman he loves, his army of beloved (and talking) animal friends, a sexually timid and immature comic book shop owner, his zombie-crazed psychiatrist and a grotesque strain of mutated vampires wantonly attacking the unsuspecting citizens of Toronto? How oddly specific of you—but you're in luck! Join Robert Spavor as he wages war against these silly vampires to save the body and soul of the woman he loves in one of the goriest, most blood-stained, vulgar and ridiculous epic battles ever!
Book 3 is called Horror at Terror Creek, which is based on a play I wrote, with one musical number (lyrics co-written with Scott McCord, and Scott also wrote the music itself…you can hear it on Triple Take Productions' blog, in the podcast widget: tripletake.net/blog/).
The storyline for this novella involves grad student Fanny Punn, who is studying an antiquated town called Terror Creek. She hopes to unearth the reasons why all surrounding villages have failed over the centuries, while Terror Creek thrives. At the Athame Inn in the centre of town, Fanny meets a peculiar cast of characters. The innkeeper, Ligeia, is also a Satanic High Priestess. Dr. Audley Salmon is the resident mad scientist toiling in his mysterious lab in the basement. The inn's maid is mute and its bellboy speaks like a poor man's Poe. It is here, among this motley coven of curious eccentrics, that Fanny stumbles onto a series of startling secrets, sealing not only her fate, but the fate of her friends...forevermore.
You can find paperback editions of all the books on Amazon. Ebook editions are only available on lulu.com.
FQ: What's next on your busy writing schedule? Are you working on another children's book? Can you give our readers a peek at your next project?
MACAULAY: I have a number of projects on my plate. I will eventually get around to what I consider the third book in this animal/rescue series I've started with Tamara Turtle's Life So Far and Chloe the Unfeathered Parrot. This one's all about teaching kids about conservation (particularly forests and wetlands), and will be called Trevor the Conservation Toad.
I also have "sequel books" coming out in a couple of years for both my Beverlee Beaz the Brown Burmese and Mixter Twizzle's Breakfast picture books. These books are published by Mirror World Publishing (Windsor, Ontario). Beverlee has also been translated into French, and some of my other books with Mirror World may get translations as well.
As I mentioned earlier, new editions of Tamara Turtle's Life So Far and Chloe the Unfeathered Parrot will be re-published by Pandamonium Publishing House (Hamilton, Ontario) later this year, too. Wei Lu is redoing the illustrations for Tamara and activities will be added to both books.
What's keeping me REALLY busy is book two in my first middle-grade novel series. Book one, called Peter Little Wing was just released this past January 17th by Pandamonium Publishing House (with illustrations by Gordon Bagshaw), and book two will be coming along in late 2025. Peter Little Wing is set in the National Aquarium of New Zealand (at first), and Peter, a captive Southern Fiordland tokoeka kiwi, and his friends—Onion, a little blue penguin with an inner ear imbalance; Tim, a tuatara with Generalized Anxiety Disorder; and Rangi, a kea with clipped wings—embark on a quest through the unfamiliar wilderness of New Zealand in search of three ingredients needed to create an elixir to cure Peter's ailing grandfather. Together, they traverse the length of the South Island of Aotearoa, all the way across the Cook Strait and back home to the North Island. They learn what they are all capable of in the wild of the wop wops, and what the world beyond the "Wall of Shadows" of Peter's habitat is all about.
So, more birds, for those of you who love our feathered friends, and specifically, there is a parrot—Rangi—in these stories, too! This is a four book series, so I expect it to keep me busy for a number of years yet!
I am also working on an outline for a book that falls somewhere between middle-grade and young adult—this is an urban fantasy story, as well as a book of short fiction animal stories and poems. I am also toying with the idea of a sequel (book) to Space Zombies!