Today, Feathered Quill reviewer Barbara Bamberger Scott is talking with Mai Kim Le, author of
Worlds Apart: My Personal Life Journey through Transcultural Poverty, Privilege, and Passion.
Mai Kim Le is a Vietnamese American who plunged into a new culture at the age of three after starting her journey traveling by boat from war-torn Vietnam to the U.S. She grew up in Seattle in the 80's at the height of the grunge culture and moved to sunny Anaheim, CA before Phước Lộc Thọ was erected in Westminster. Mai's family finally settled in Lawrence, MA which became her beloved childhood hometown, where she graduated from Lawrence High School.
Mai's career path has zigzagged since she graduated from Bowdoin College and Princeton University. She spent most of her 20's saving the world in Africa, Asia, and the Middle East. Mai's accidental wanderlust around the world as a result of personal, professional, and educational aspirations took her from the banks of the Mekong Delta to many distinctly different places around the world such as Rwanda, Yemen, and Paris where people's stories are no further apart than her own. But she then gave all of that up for love to be with her college best friend and moved back to Boston to raise her three beautiful kids and two furry friends. The rest of Mai's trajectory has been mapped out by stumbling onto new passions and interests that she never knew she had.
FQ: How do current happenings in the land of your birth affect your current thinking?
LE: Vietnam has rapidly changed since opening its doors to the world after America lifted its embargo. It's a country that has modernized quickly to catch up with the world since the late 1990s, elevating its food, art, music and fashion while also preserving its culture and history.
How Vietnam has changed as my country of birth to where it is today mimics my change as the young Vietnamese girl who was born on the muddy Mekong River to the person I am today. The country's and my parallel changes further solidify my love for myself and the country. I'm incredibly proud to see Vietnamese artists like Ha Ngoc Duong (painter) and Suboi (rapper) who express themselves freely and intricately infuse external influences into their work, creating unique work of art and music, respectively.
FQ: It's hard for someone who grew up in the United States to imagine what your family, and so many others, endured to escape the hardships of Vietnam after the war. I believe stories like yours need to be told, especially to our youth. Have you ever considered (or have you) giving talks to schools or youth groups about your experiences?
LE: Funny enough, before the book, I spoke about my journey with grammar school students in Washington, DC. The students were so intrigued and posed numerous questions. I think they were fascinated with the pirate story, living with no resources, and my journey to becoming the person I am today. During that particular talk, one student asked if I had a passion as a refugee kid. I quickly answered that "passion is a privilege," which I decided had to be the subtitle of my book.
After releasing the book, I have spoken at a few other schools, including crafting an original poem (below) about accepting ourselves as who we are, delivering it to all students at Winsor School in Boston.
My journey started on the banks of a river
So beautiful only a waterfront view can deliver
Lush jungle, blue skies, and sounds of water so serene
Creating a view of life like a perfect movie scene
Everything looks better from a distance
Like an instagram post that masks the non-existence
Born on the banks of a muddy river
A facade of life that drastically differs
Up close my life to many was non-existence
In a country destroyed by war and resistance
In a land across the globe so far and foreign
With names hard to pronounce unlike Lauren and Warren
In darkness and hunger, seeking freedom and hope
Attacked in a boat with no way out and no way to cope
Violation of all kind by pirates wearing bandoliers
Screaming in fear begging to keep at least my ears
Nothing matters in these moments of despair
Except the ability to gasp an ounce of air
Attacks of all kind can destroy my facade
But nothing can take away my internal lightning rod
A rod that has always guided me through a new day
Overcoming any darkness to feel the kiss of a sun ray
Courage and strength have kept me standing up
Even when I've been rejected and endured many breakups
Wherever I am, I remind myself of my core identity
To guide me through life's ups and downs towards serenity
I am who I am simply as I am
A girl from the banks of a river ready to hit that grand slam
Nothing to lose, no idea of a win
Journey through life down the river like Huckleberry Finn
Adventures to fill and memories to build
Move over the fear to avoid being unfulfilled
Condescension, racism, and hate
Will just have to step aside and wait
Life has room for people like me and you
There's no queue for us to shine through and through
Like Madeleine Albright whom I adore
I found my voice and silence no more
Learning to read and write was my gold
Though late at the age of 12 years old
One challenge after another, I found myself alone
Isolated from groups and people as I hold my own
Discovering myself on many a benches in Paris
Learning to love myself and all that I cherish
Move over the racism, condescension, and hate
It is too much to bear all of this weight
I am who I am, exactly as I am
A woman of any color ready to hit a grand slam
FQ: You state that you can accept your husband's religion without joining it officially; do you have advice for someone in the same position as to how to reach the same plateau of understanding that you have attained?
LE: Tolerance. Without it, you can't accept any religion or any thoughts other than your own. It's incredibly hard for me to believe that one religion is better than another because I have too many friends who are devout Christians, Catholics, Muslims, and Jews.
I'm more Buddhist in mind and thought, and believe in finding serenity within myself and the world around me as well as the good in others regardless of who they are, what they think, and what they practice.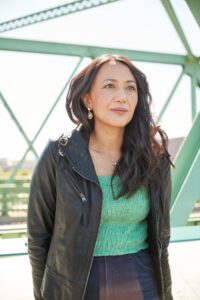 FQ: Would you tell our readers a little about your experiences in Rwanda? I think most Americans know very little about the country other than there being a genocide in Rwanda.
LE: I was in Rwanda for work examining the Nile River Basin Initiative. That opportunity to be there ignited my love for Africa. Rwanda is absolutely one of the most beautiful countries in the world, lush in natural beauty and exotic animals/plants that undulate in the thousands of hills. Rwandans are beautiful and unbelievably sweet people with an authenticity that might seem like an oxymoron in light of the genocide there. Despite its beauty, there is a darkness that looms over the people who experienced the genocide.
Before heading to Rwanda, I read Rosamond Carr's memoire, Land of a Thousand Hills: My life in Rwanda. The book documents Ms. Carr's love for the country and its people. I fell in love with Rwanda like her.
I'm returning to Africa this summer, but this time to Tanzania. Africa is a gem that I hope everyone gets an opportunity to explore.
FQ: Do you have a "favorite" country, given your many travels? If so, would you share a bit of what makes it so special to you?
LE: I don't have a favorite because I love all my travels. I love the Middle East, Africa, and Asia. Unfortunately, I have not been to any Latin American countries, but hope to one day. However, with that being said, I do have a preference for Paris only to escape and reconnect with myself. After all, it's where I found myself and where I began to blossom.
A key reason why I love traveling is because of my insatiable curiosity to learn about others and myself. I try to immerse myself fully into the culture, environment, food, and people. This allows me to let go of everything and enjoy the intricacies of travel in an all-encompassing way.
FQ: Will you encourage your children to become world travelers on their own, perhaps visiting places associated with their mother's or father's origins?
LE: Traveling is a privilege, even if you can hop on the cheapest flight and bum around from hut to hut. When I had my first child, I told my husband that my dream is to ensure that our kids see the world in the most authentic way in order for them to understand the world beyond their bubble. My kids have already visited Asia, Europe, and the Middle East. They have frequented the narrow back alleys of Vietnam to get to a restaurant hidden in someone's house that would make Anthony Bourdain proud. They have navigated through the West Bank and hiked the desserts of Israel and UAE. They ate their way through Asia and every country they have visited.
My 16-year old will be traveling with me to Tanzania to work with children, and my 13- year old is going to Ecuador and Galapagos with his school next month to explore and learn the culture, environment, and natural habitat.
We will continue to explore the world together and separately. I hope one day they will be able to visit their father's hometown in Ukraine when there's peace and stability.
FQ: You speak of the world today as "drowning in antagonistic self-righteous views" – is this, in your estimation, a major change, or a continuation of how societies have been sustained throughout world history?
LE: Ha! I think there have been elements of self-righteousness at all levels throughout history. But today, from my own vantage point, we are in a world with extreme lefts and rights where any divergent view, even if it is a slight deviation from one of the extremes, is quickly squashed and cancelled. This seems to be a phenomenon in many countries where you see a rise of extremism because our world is currently a pendulum that swings far left and far right. However, at some point, we will realize that a world cannot exist in stability with such swings. It's disruptive! To answer your question, it's a major change in our society.
I do believe that there's a growing discomfort with where we are in our society with this self-righteousness. We all have a voice. The biggest problem is that I'm seeing people are not comfortable sharing or voicing their view without the fear of being cancelled.
FQ: I love what you've done with your website - the map and when scrolling down, how the viewer is able to follow your journey. Honestly, it's very cool and really helps drive home what you/your family went through. Was this something you asked your web designer to do?
LE: Yes, I had a vision for my site and wanted it to be interactive to provide users with an immersive experience. I designed it and mapped it out for my awesome software guy to build it.
FQ: On your website's "About" page, you mention that through your extensive travels, you discovered "...people's stories are no further apart than her own. There are more commonalities in one's struggles, anxieties, pursuit, and goals…" Could you see yourself perhaps writing another book sharing some of those incredible stories?
LE: If I start itching to write another book, it will happen. What I've learned with the process is that I need to be in the right state of mind to let it all out and pour words onto the pages. In the meantime, I actually co-wrote a fictionalized screenplay with my editor that pulls major universal themes from the book. We have a multi season script that is being pitched, and we are now working on a feature film. Not sure if these scripts will be picked up or collect electronic dust in the cloud, but I do love storytelling and finding ways to show that we have more in common than apart. There's an intersection of our struggles and hopes that need to be told in order to break those self-righteous views