Today, Feathered Quill reviewer Rebecca Jane Johnson is talking with J.R. Klein, author of
All The Burning Rooftops.
FQ: It is a pleasure and honor to interview you as you are an award-winning author of ten books, and so much more. This most recent novel tells the story of Armando Ortiz and the challenges he faces to become a small business owner. Were there unique challenges you faced in writing this particular story that were different from other stories you've written?
KLEIN: Thank you for the kind words. I suppose the primary challenge was to make Armando's experiences believable and accurate, given that I never worked as a laborer putting shingles on a roof in the middle of summer.
FQ: How did you do research for this book and then use that research to make the characters and plot come alive and be convincing?
KLEIN: I drew most of my research for the book from watching roofing-crews work, especially during the hottest months. I also had knowledge of how good roofing companies treated their workers and how bad ones mistreated them, as detailed in various episodes of the book.
FQ: In your view, should a writer write about what he knows or write about what he wants to learn?
KLEIN: Good question. Ultimately, some of it must come from what we know. But with regard to suspense and even horror, which I occasionally dip into in my own writing, it is safe to say that most of that comes from our imagination. So, writing fiction is pretty much an amalgam of both experience and imagination.
FQ: In his thoughts on writing, James Baldwin explained that he aimed for sentences to be 'as clean as a bone.' Your writing reminds me of this because your writing is so clean and clear. What are your thoughts on achieving perfection with each sentence?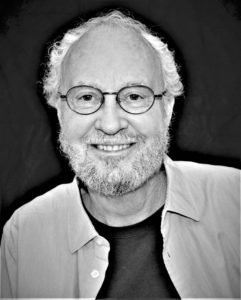 KLEIN: I am glad to hear that because, for many years, I have strived to do it. In my early days of writing, I fell victim of the assumption that I needed to embellish my work with lots of adverbs and adjectives. I think (hope) I have now arrived at a compromise on that.
FQ: Your book helps a reader cultivate emotional intelligence regarding challenging topics such as immigration or exploitation of labor. Armando often reflects on wisdom his mother has taught him; for instance, Armando reminds his children that even working a menial job can offer lessons about life. How did you cultivate such emotional intelligence in your life to help you have sensitivity and wisdom to write a character like Armando?
KLEIN: Certainly from my parents, as was the case with Armando and his mother. When I had various jobs as a teenager, I was taught to do every task diligently no matter how menial it was.
FQ: How do you make readers care about your characters and stories? I really found myself caring deeply for Armando and his family.
KLEIN: In a story like All The Burning Rooftops, I felt that compassion needed to be front and center. Armando is a decent and kind man—not perfect but good. I wanted him to be like many fathers who want their children to have what they never had, and are determined to make the difficulties in their own lives secondary to that goal. Once I knew this would be a major theme of the book, the mood of the story fell into place.
FQ: What books make you cry? If not cry, what books make you think or feel in ways that expand your awareness or deepen your emotions?
KLEIN: A beautiful book titled Grey Bees by Andrey Kurkov, a Ukrainian author. Sergeyich, the protagonist, lives in a war-torn village in which everyone has left except for him and his life-long friend, Pashka. Sergeyich makes his living raising bees, but he is forced to load his beehives into his small car and take them to another village because the land around him is so saturated with gun powder that the bee's honey tastes like it. What a powerful book!
FQ: What is your favorite under-appreciated novel?
KLEIN: For this I am going to choose the famous French author, Patrick Modiano, the winner of the 2014 Nobel Prize in Literature. Because all of Modiano's books were originally published in French, few people in the U.S. knew about them until recently when they were translated into English. I think I've read almost all of his books. They tend to be short, usually about 120-140 pages. He invariably focuses on the difficulties people have in accepting unpleasant situations from their past, and how our mind deals (or doesn't deal) with those.
FQ: What do you hope is the most meaningful takeaway for readers of All the Burning Rooftops?
KLEIN: That even the most simple and ordinary work can be done with dignity, and that we need to have respect for people who work at those jobs. An underlying theme is that the American dream, though often fraught with challenges, can be lived by everyone.
FQ: What's next for JR Klein? You've been so busy in your writing career that I imagine you've already started working on your next book.
KLEIN: Yes. I am about two-thirds finished with a novel, a book of contemporary literary fiction.
FQ: Thank you for your wonderful writing work and for taking time to talk to us. We look forward to your future books.