Today, Feathered Quill reviewer Barbara Bamberger Scott is talking with Lyman Ditson, author of
Desert Angels.
FQ: You have chosen your current home region for the setting of this book - did it inspire you in some way to create this work?
DITSON: Actually, I recently moved to Wisconsin. When I began writing Desert Angels, I lived outside of Santa Fe, New Mexico. I loved the desert there. One highlight of living there was a mother bobcat raising her kittens behind my house.
FQ: Have you ever experienced the kind of "recognition shock" that your narrator goes through?
DITSON: Yes. Many years ago, I had a kind of self-awareness that hit me. But over time, it felt restrictive. Now, in my later years, I have had more spontaneous, selfless revelations that I believe are more the true self.
FQ: Do you believe in angels either really, or as powerful symbols for our inner guidance?
DITSON: I think anyone or anything that guides me on a path of discovery is an angel or comes from an angel.
FQ: Do you have other creative talents and pastimes besides writing?
DITSON: I have found a passion for gardening.
FQ: Have you been, like your narrator, writing poems since you were a child?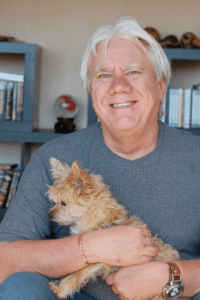 DITSON: The three incidents that Boris spoke of were taken from my younger experiences. Of course, I can't remember the exact wording of the poems from back then, but they really were met with derision.
FQ: Do you see your dog – one's dog – as able to impart wisdom and "read" one's mind?
DITSON: There is no doubt that we communicate without words with our pets, as anyone with a connection to their pet will tell you. You were astute when you mentioned that Lion's speech was my conscience. In the story, it was like a consciousness of my own thoughts.
FQ: What poets/writers have influenced you most in your creative endeavors?
DITSON: The writers that stand out for me are William Yeats, William Stafford, Mary Oliver, Rumi, and Kahlil Gibran.
FQ: What single piece of advice would you give to a person preparing to read your work with no previous knowledge of your writing style?
DITSON: Know that how one interprets some poems or stories comes from within the reader. I have heard of several different ways that people sometimes see what's in a story or poem, and that's ok. It's the place that one happens to be in at that moment.