Today, Feathered Quill reviewer Barbara Bamberger Scott is talking with Koye Oyerinde, author of Who Should We Let Die?: How Health For All Failed, And How Not To Fail Again
FQ: How long did it take you to write this remarkably wide-ranging book?
OYERINDE: I started taking notes and jotting down ideas about two years ago but it took about eighteen months of dedication to get the book through to publishing and release.
FQ: Will you offer the book as a manual for workshops/gatherings concentrating on this important material?
OYERINDE: The book will be a good study material amongst other books for students of health policy and management, especially those with a strong global health focus
FQ: Does writing about a botched system and the ways it might be changed and reformed give you a sense of hope?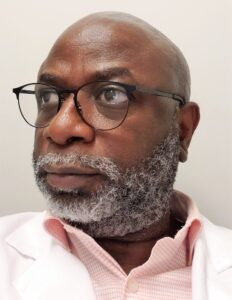 OYERINDE: It is only possible to write this book from a hopeful position. Central to the health for all campaign was a grassroots organization around health issues. It is only active citizens agitating for health for all that will make it possible. I draw my hopefulness from campaigns by young people around the world against police brutalities such as the George Floyd demonstrations in the US, and the ENDSARS campaign in Nigeria. After all health for all is a social justice issue.
FQ: Do you use a fair dose of humor, as you did in your book, for speaking engagements regarding this material?
OYERINDE: I think health policy is a boring subject for the general public. I tried to use humor in my writing to lighten the boredom of readers. In speaking engagements, I am not naturally humorous, but it depends on the conversation and the vibes among the participants.
FQ: Would you recommend the book to those who work outside the medical profession but who might face similar pitfalls in work serving the public?
OYERINDE: Yes, the book will be useful for all who provide public services such as education, housing, and public safety.
FQ: Are there any nations that, in your observation, come close to offering the healthcare ideals you propose for all?
OYERINDE: We need not look far. The US Indian Health Service provides healthcare as a right of citizenship. In terms of other countries, practically every other Western country provides health services as a right. The National Health Service (NHS) in the UK is a good example. Cuba, a much poorer country, under decades of US embargo, manages to provide health services to its citizens.
FQ: Could you envision a documentary film concentrating on these issues?
OYERINDE: There have certainly been documentaries on related subjects. Michael Moore's 2007 film, Sicko, focuses on the US health system.
FQ: What are your future plans as an author, speaker, and universal healthcare advocate?
OYERINDE: I hope that the book will provide a platform for me to continue to advocate for universal healthcare. I plan to author a few short pieces in local newspapers and academic journals soon.