Today, Feathered Quill reviewer Amy Lignor is talking with Nancy and Eddie Sullivan, authors of
Secret Adventures of the North Pole: Magic in the Frosty Air
FQ: What first made a husband and wife team come together to bring Freezyville and all its wonderful characters to the public?
NANCY: The inspiration for this story came several years ago. It was the day after Christmas and I was admiring all the pretty decorations. I gazed upon our snowman and snow women ornaments. Wandering how nice it would be to leave them out all year long. It was almost as if they were looking back at me. I started to get the idea. A magical place near The North Pole where all the people are made of snow, filled with love and laughter. Brought to life by the magic in the frosty air.
EDDIE: A few years later, I wrote a song entitled
Magical Journey
. This inspired Nancy to create Princess Rose, the villain of her story. Slowly, the story evolved, inspiring me to write more songs. As for any creative work, our dream is to share it with world, and to bring smiles to those we share it with.
FQ: What made you decide to add an audiobook in with this package? Is this something that you feel you will continue to do in this particular genre?
NANCY: When Eddie first read the book out loud it brought the book to life. You could really feel the excitement and the emotions of the characters. He's also pretty good at doing different voices, so all the characters got to have their own distinct voice. This really brings out their personalities.
Eddie has been a songwriter for many years. He has a knack for coming up with great original holidays classics that both children and adults will enjoy. Hopefully, one day they will become holiday classics. The audio CD is a great way to share Eddie's songs and adds to the enjoyment of the book. In addition to the audio book, the music soundtrack called
Symphony in the Frosty Air
can be purchased at CD Baby. Children and adults alike will be singing along with all the happy tunes.
EDDIE: Finally, the sound effects compliments of Free Sound Effects complete the experience. It's like listening to a movie where the visual is a combination of the illustrations and a child's vivid imagination.
NANCY AND EDDIE: We will definitely continue the audio books. In fact, the second book in the series,
More Magic in The Frosty Air,
is already published and available on Amazon and Barnes And Noble. This book also has an audiobook available at CD Baby. It was a lot of fun recording the books and music with Joe and Tom at SI. Studio.
FQ: How did The illustrations come about? Can you tell readers what is more fun and perhaps, more difficult when it comes to putting together an entire package instead of just a hard copy by itself? And what can future writers in children's genre learn from your experience?
NANCY: While writing the story the characters and their personalities seemed to have a life of their own. The characters were drawn several times until finally their images matched their personalities.
EDDIE: I was very meticulous with some of the building illustrations which took countless hours over days and days to complete. During the audiobook in addition to the hardcover gives the audience the full experience. In addition to seeing how they look, everyone can hear how they sound. I had a blast recording it! I must say though, it was quite challenging switching back and forth from narrator to character. The editing was tedious for me especially the studio engineer, but the end product was well worth the work! Joe did a great job!
NANCY: What other writers can learn from our experience is to take your time. Keep revising the text and the illustrations until you're completely satisfied with them. Make sure you pick a good publisher.
FQ: Will this be a series? Is there another Noel Claus tale in the works?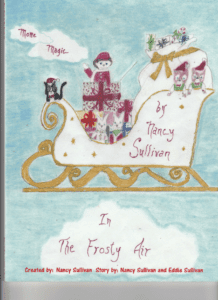 NANCY: Yes, this is definitely a series with endless possibilities. As we mentioned earlier, the second book,
More Magic in The Frosty Air
along with the audiobook is already released. The third book,
A Wish For A Christmas Fish
, staring Frankie The Fish, Rufus and Cliffy, among other lovable characters has also just been published. It is now available at Barnes And Noble, Jet and Amazon will soon have it too.
EDDIE: This is just the beginning! We have many more exciting adventures yet to come from our lovable characters!
FQ: Did each of you always have a passion for Christmas/holiday tales that made you want to walk down this path?
EDDIE: We have a special holiday tale of our own. This time of year is very special to us. We met on December 23rd... Once upon a time each of us were both shopping for Christmas presents for our mothers. Nancy had been waiting in line at the jewelry for almost two hours! I came strolling into the store. Saw the long line and said to myself, there's no way I'm going to wait...Let's see who I can get in line with. Oh look, there's a pretty girl. My heart started to pound. Suddenly, a strong voice like that of a drill sergeant commanded me, "Walk! Now!" Shaking off the fear, I marched on over there and bravely introduced myself. She smiled, and my heart told me that this was the start of something magical. I smiled back, and the rest is history!
FQ: Could you share with your readers what you hope children (and adults) will take away from the book; a specific lesson that you hope Freezyville will teach them; or an emotion it will leave with them as the new year begins?
NANCY: The first thing that comes to mind is that my character, 'Sammy The Snowboy' never judges Princess Rose harshly. He sees beyond her exterior, and looks right into her heart. Even though she intends to keep him, Sonny and Stephen locked away in her dungeon, he still extends to her a random act of kindness. It is this kindness that can change a person's life forever.
EDDIE: The book also contains a great message of unselfish, love and loyalty. The people of Freezyville are willing to go through anything for one another. And even for those they don't even know.
FQ: Do you have a specific author that you'd love to meet and greet, and perhaps ask a question of? If so, who would that be, and what would you like to learn from them?
EDDIE: For me, that would have to be Charles Shultz, creator of
Peanuts
, and Theodor Seuss Geisel, more commonly known as Dr. Seuss. Creator of my favorite Christmas cartoons -
How The Grinch Stole Christmas
and
A Charlie Brown Christmas
.
NANCY: For me, it would be Alan Alexander Milne, author of the
Winnie The Pooh
series.
EDDIE AND NANCY: What we would like to learn from them is the secret of capturing the hearts of audiences, young and old, generation after generation.
FQ: What's next? Are you currently working on another project together? What should readers keep an eye out for in the months to come?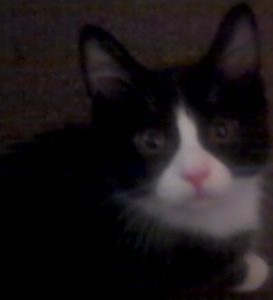 NANCY: As we mentioned,
More Magic in The Frosty Air
and
A Wish For A Christmas Fish
are now available. There are many more stories yet to come for Sammy The Snowboy and the entire gang. Santino, Eddie Elf's crazy little kitty will have an adventure of his very own. Santino's character is based on our very own tuxedo little kitten. He is very playful and always getting into mischief. He also craves content attention. We have enclosed a picture of him. Ralphie Reindeer's character is based on our Pekingese dog. He is very funny and lovable. We also enclosed a picture of Ralphie. Getting back to the question, Freddy and Teddy our little panda twins will have a book of their very own. I will also delve deeper into the story of Princess Rose and the characters from Keepsake Castle and Banesberry Castle.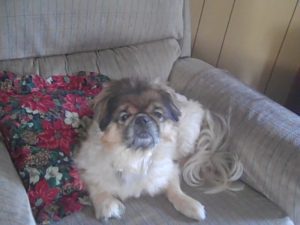 EDDIE: We will also be working on developing these great books into full length animated feature films that we hope will be playing in movie theaters across the country. We smile at the thought of happy families enjoying them year after year making all our stories wonderful holiday traditions.