Today, Feathered Quill reviewer Kathy Stickles is talking with M. Ch. Landa, author of
Vandella (Vandella Series Book 1).
FQ: Are any of the characters in the story based on people you know or are they all a product of your imagination?
LANDA: The characters in my story are mosaics of the traits of multiple people I've met during my life, combined with aspects of my personality as well. So, I would say are mostly a product of my imagination.
FQ: What parts of your own culture and traditions are a part of the descriptions of the afterlife found in the book?
LANDA: The afterlife in my novel is an eclectic place borrowing from multiple mythologies, mainly Judeo-Christian, Buddhist, Islamic, among others. The first book doesn't show any Mexican tradition. However, I'm currently working on a side story of Vandella that takes place in Mexico, so stay tuned.
FQ: Each of the characters in this book are so well-written and a perfect fit for the story. Which one was the hardest character for you to bring to life and keep true to the story?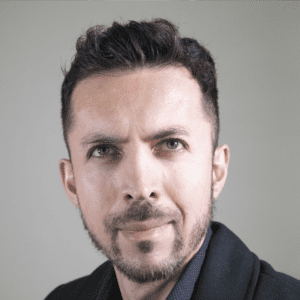 LANDA: Sidney was the more complex character to write because of his atemporal and omniscient nature. I'd to rewrite his dialogues many times to find the perfect balance in which he could convey only the right amount of information to keep the reader hooked but not giving too much to spoil the twists of the story. All this trying to develop a character arc at the same time and showing a sense of progression that could be believable by the reader.
FQ: Maia and Sidney are both such well-developed and unique characters. I'm curious as to which one developed in your mind first. Did you write Sidney to be part of Maia's story or Maia to be part of Sidney's?
LANDA: Actually, both came into my mind together like a duality. The shepherd of souls and the soul who would experience Death's odyssey. Interestingly enough, in the first version of Vandella, the genders were inverted. It was a teenage boy falling for a beautiful, female incarnation of the Harbinger of Death.
FQ: You also write graphic novels following Vandella. What are the differences between writing the graphic novels and having written this full length novel? Which is easier to write and why?
LANDA: I think the biggest difference is that in a graphic novel you have the visual support of the drawings to transmit characters, locales, or actions to the reader, but it's also harder to convey feelings, thoughts, or emotions, since inner monologue is reduced to a minimum because of the dynamic nature of the medium. I don't believe intrinsically, one is easier than the other, just poses unique challenges. In a novel, as a writer, you are the architect and sole responsible to transmit your world to the reader, and in a graphic novel, you need to first transmit your concepts to the artist who will portray your ideas through drawings.
FQ: You've been an active blogger for a long time. Would you tell our readers about your blog, and where they can find it? For authors, do you recommend that they start a blog?
LANDA: My blog is a collection of fiction, personal experiences and mental exercises from different subjects ranging from psychology, philosophy, religion up to politics. I also share my writing news there. It certainly has something to everybody. You can find it at yourlastdesire.com/.
Yes, I think a blog is a tool that teaches us valuable lessons for all aspiring writers (and even consummated authors). It can work as a cathartic tool, as testing ground for your ideas, aid us in creating deeper connection with your readers, and also as a medium to reach a wider audience that might be interested in our books down the road.
FQ: Even though the book ends with answers to most of our questions you can tell that there is more to learn. Will we see more of Maia and Sidney in the future to get those answers?
LANDA: Yes, I've planned an interwoven series of books around those characters that will answer all the questions introduced in book one and hopefully the series finale will leave readers with a deeper sense of resolution and satisfaction.
There is a sequel on the way, Vandella: Resilience. Can you tell the readers when this is going to arrive and give us a small idea of who will be in the story and what it will be about.
Vandella: Resilience will follow exactly after the finale of book one and will tell the story of one of the main characters, Peach, acting as a prequel. The manuscript is currently in the editing phase, hoping to hit shelves during the first half of 2023!