Would You Like to Be in a Trailer for The Magician's Land With a Bunch of Famous Writers?
I'm serious. This is not a theoretical question.
I've never done a book trailer before. A
theme song,
yes, but never a proper trailer. And I wasn't going to do one this time either, except that I had an idea that I liked too much to leave it alone. But I need your help with it.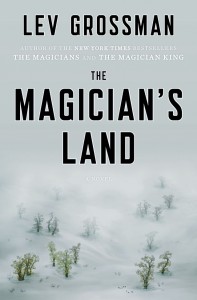 Here's the idea: I'm going to put together a video of the first few paragraphs of
The Magician's Land
being read aloud. But I'm not going to read them. You're going to read them.
To read the rest of the post and learn how to participate, please head over to Lev Grossman's site at:
http://levgrossman.com/2014/04/would-you-like-to-be-in-a-trailer-for-the-magicians-land-with-a-bunch-of-famous-writers/