Today, Feathered Quill reviewer Kathy Stickles is talking with Bruce Smith, author of
Legend Keepers: The Partnership.
FQ: I really love the concept of Legend Keepers and having the animal characters be such a huge part of the story. Where did the character of Buddy come from? Why a mountain goat and not some other animal?
SMITH: Why not reveal climate change through the eyes and lives of animals who live its consequences every day? Animals serve kids as trusted teachers and the mountain goat is a perfect gateway species to the climate crisis. It lives at higher altitudes than any other large animal in North America. And it's at those highest altitudes—and the highest latitudes—that the planet is warming fastest. Species living up there must adapt fast, if they can.
Buddy, the heroine kid mountain goat, leapt from the pages of my nonfiction book, Life on the Rocks: A Portrait of the American Mountain Goat. Adapting the book's chapter that explains how global warming is affecting alpine creatures into a story for young readers—and creating Buddy, this charismatic central character—was an easy choice.
I also chose Buddy as the protagonist because of my fondness for mountain goats. That dates back to the 1970s when I spent 2 years living among and studying them deep in the Selway-Bitterroot Wilderness Area of western Montana.
FQ: What made you decide to include a human character in the second book as such a major part of the story?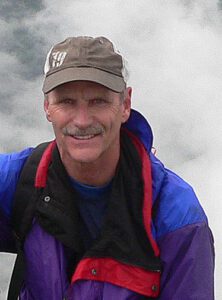 SMITH: Although Buddy knows that things are changing on her mountain, she doesn't know why. To explore the climate crisis more deeply, human characters needed to join the story in the series' second book, The Partnership. They bring more depth and layers to the story.
For Garson's sixth-grade science project, he climbs to the Shining Mountain Glacier in the wilderness that's near his home. There, he encounters Buddy and that changes everything as these two kids' lives become entwined. Their shared alarm over the Great Warming's threat to the glacier, and to Buddy's mountaintop home, transforms Garson from an introverted boy into an environmental advocate. Sometimes it takes a partnership to bring out the best in us.
FQ: I love that Garson is such a normal kid and that a part of your storyline was not only his desire to help Buddy and the others, but you also show us how hard his personal life is at times. Was it hard to go off-topic, so to speak, and give the reader the personal as well as the science?
SMITH: I think the most endearing and relatable characters are those who are flawed and face personal challenges. It gives them room to grow. That was common to the lives of both protagonists. Garson just didn't fit in and was bullied because he was different, not unlike many kids. During the course of the Legend Keepers story, he grows more self-confident. His growth is a product of discovering and acting on what is important to him—his purpose—as is the case for his costar, Buddy. In a sense they live parallel lives. This provides readers both a boy and an animal to root for. Both are great role models. These protagonists also provide readers an opportunity to experience the climate crisis through the eyes and lives of both animals and kids.
FQ: Was there a lot of research involved in this story regarding the science (glaciers, global warming, etc.) and how hard was it to translate all of that information into something that kids could easily understand?
SMITH: Writing about topics an author is familiar with, and in my case subjects I've studied and written nonfiction about, does simplify the background research. Yet, it's important to be current on the subject matter. So I did plenty of reading. I also conducted personal interviews of forest ecologists, glaciologists, and Marine Corps recruiters to ensure the underpinnings of the story were factually accurate. But that alone doesn't make a good story. I read loads of current middle-grade fiction and studied the craft of writing for this age group. It also helps to live inside the characters while writing.
FQ: I know that I do, but do you have a personal favorite out of the characters you have created?
SMITH: The most fun about creating Legend Keepers was bringing to life this cast of characters. Certainly so for the animal characters. As Buddy interacted with Roark the wizardly raven, Maurice the vociferous, daffy marmot, Whodare the cool, courageous pygmy owl, and the other mountain goats of her band, the characters became believable—at least to me. Perhaps without young readers aware of it, animal characters serve as stand-ins for humans. We can find something relatable in each as they struggle to overcome obstacles and discover the importance of friends and family.
Which one is my favorite? Well, that's like asking parents which child they like best.
FQ: What made you decide to write the series for kids rather than adults? Do you feel that the books are helping kids to understand the issues that our planet faces?
SMITH: Young people are feeling stressed about the climate crisis. They're smart. They see, hear, and read what's happening. And with their whole lives in front of them, they know that the changing climate's consequences are sure to grow worse for them. Many kids are experiencing what psychologists now call eco-anxiety or climate grief. The good news is that young people are taking action. They're leading the way because they feel that we adults are failing them. To nourish kids' aspirations and activism through hopeful stories is why I wrote Legend Keepers for them.
The Legend Keepers books blend fact with fiction to entertain, educate, and empower readers. "The Science Behind Legend Keepers" offers several pages of information at the back of each book about geology, glaciers, climate change, and the animals in the story plus suggested further reading. These are perfect classroom books for STEM learning, and for family discussions. I would like to see Legend Keepers, and books with similar messages, in every school library and part of classroom curricula.
FQ: I must say that I adore the drawing on the cover of the book. Did you design it yourself or did someone else handle the art? If so, did you tell them what you wanted it to look like?
SMITH: I feel the same way about the cover artwork! Of course, I'm biased. My wife Diana created the watercolor art. The general designs for the covers were my idea. She took my simple sketches and created on paper what I could only imagine. Nice that her office is just down the hall from mine so that I could watch the interior illustrations and book covers come to life.
FQ: I know from your biography that you have written non-fiction books as well. Which is easier for you to write? What made you choose to create a fiction series on this topic instead?
SMITH: A big question. I hadn't planned to switch from writing adult nonfiction books to writing fiction for kids. I had no prior experience doing it. But when I was on a book tour for Life on the Rocks: A Portrait of the American Mountain Goat, I was disappointed that few children came to my events. Their parents and grandparents didn't bring them, even though event publicity made clear "This is a talk for the whole family, with lots of slides of animals." It just hit me that I needed to write a story for kids. I'd talk directly to them, or rather the characters in my novel would.
So that the book wouldn't sound preachy, I chose fiction and wrapped the climate theme in a grand adventure at the roof of the world. Because it was new to me, I can't say writing fiction was easier than my nonfiction projects, just more fun and creative. I discovered that the interplay of the characters I fashioned, and came to love, had as much to do with the story's arc as did any preconceived plot. Holding a loose rein on what I thought "would be" was essential to the creative process. Writing nonfiction, even narrative nonfiction, is nothing like that!
FQ: Can you tell us what comes next for Buddy, Garson, and the rest of our new friends?
SMITH: To tie up all the loose ends left dangling in the second book is the challenge for me in the next book. I'm curious just how the characters will do that. Perhaps it's best for me to answer your question with no more than the teaser at the end of The Partnership: Garson is determined to keep his promise to Buddy, even as Roark chides her, "Maybe there's nothing goats and ravens can do to change the future. And whatever makes you think that boy can?" But never underestimate a twelve-year-old with a plan. There's nothing Garson wants more than to protect Shining Mountain. Nothing except to see his dad again, and perhaps Buddy.